eComm and Eastern Engineering
Where we have been and where we are going.
eComm is a cloud-based Construction Management Software that was created by Eastern Engineering in central Indiana. It is currently in service across the midwest in numerous construction projects. The projects range from School Renovations/New facilities, Jails, Casinos, Conference Centers to Wastewater Treatment plans, UV facilities, and many others.
While there are many different web applications that are built for the AEC world, Eastern Engeineirgn prides itself in what it does differently. Both the development team and the support team are located in the midwest and live in the very communities where our customers are working on projects. Because of that, our customer's success means our success.
eComm has come a long way since it was first launched. With input from our amazing customers, we are able to update our product to reflect modern trends in the construction industry.
As a result, we have been able to create new features in eComm that change the way our customers manage projects. Prime Contracts has been one of the most recent features. It gives Project Managers the tools for Change Management within the same software that they use to process submittals. Now users can approve a submittal and send an Allowance Authorization without leaving their web browser.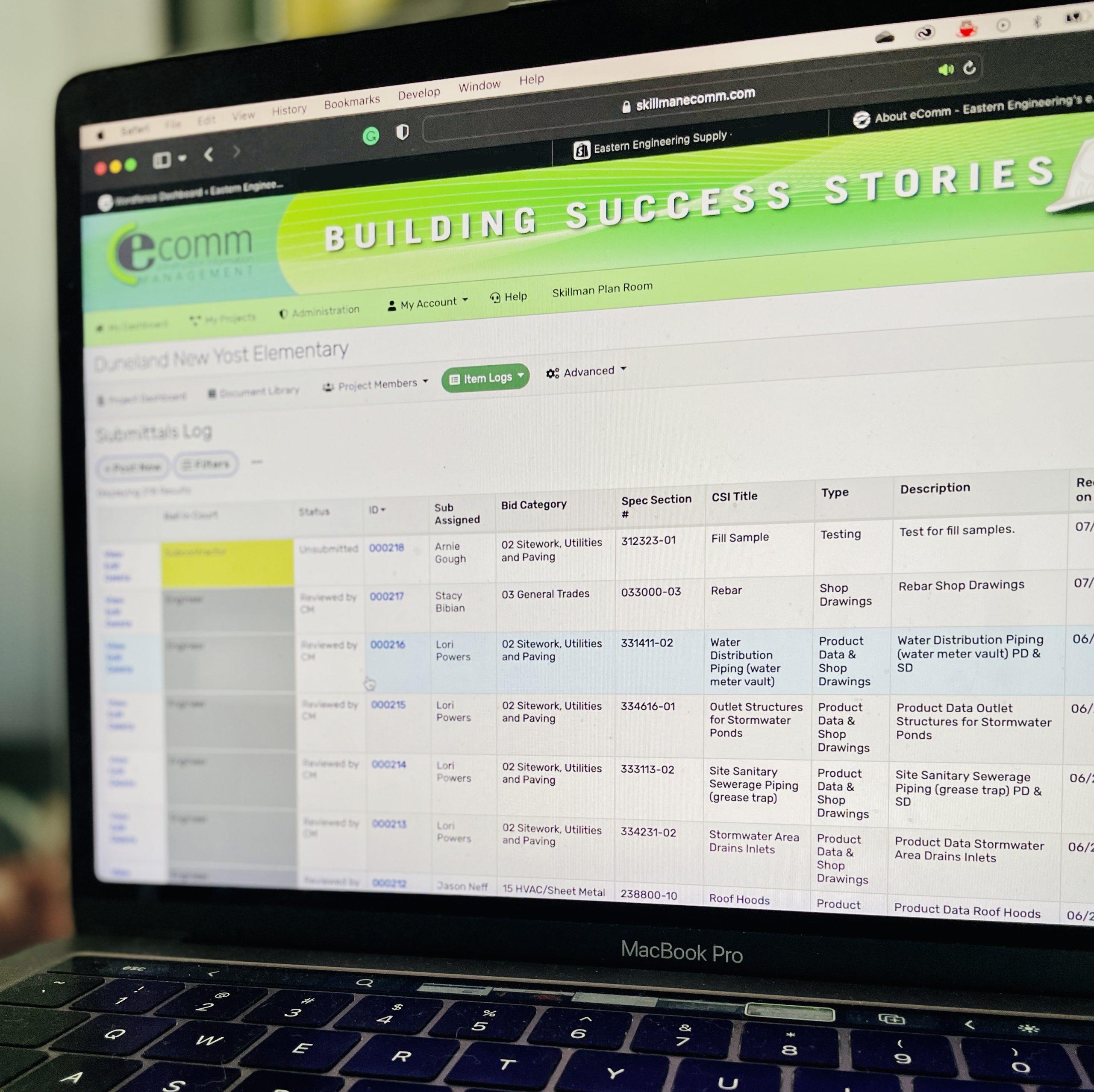 eComm can be used for any item that needs to be managed. We have many prebuilt items that are ready to go. A simple item that just needs to be shared with the construction team or something a little more complex that needs to be more secure. We can also custom create an item with a custom workflow in an individual project.
Common workflow items for eComm.
Field Reports
ASI's
Change Order Requests
Construction Change Orders
Allowance Authorizations
Closeout Submittals
Meeting Minutes
Hazcom/Safety
Project Photos
Bulletins
Proposed Change Orders
RFI
Schedules
Submittals
Eastern Engineering and eComm
2022 marks 50 years in business for Eastern Engineering. We believe that puts us in a unique position to make the best Construction Management Software on the market. Other software companies like Procore and eSub have not even been around for half that time. With our roots as a reprographics company, we are in a unique position to understand construction documents and the importance of making sure they are ready and accessible to all who need them. We strive to make the process as easy as possible and give all our users a great experience.