After all the work has been completed and the cleanup has finished, there is still one final construction project task that no one wants to do. The Construction Project Closeout has been a nightmare for project managers since the industry started. Who wants to go through every single piece of paper and assemble a bunch of binders? NO ONE! eComm has made it a hands-off experience. Construction Project Completion went from taking months to complete to now only taking a short amount of time. With eComm your construction project completion just became EASY.
How can a Construction Project Closeout be easy?
eComm takes all the data from your project and combines it into a clickable searchable PDF document that anyone can use. You get your closeout in 3 easy steps!
Submit your closeout request to robby.michael@easternengineering.com
Get a download link for your closeout
Download your closeout and distribute it to your project owner
It really is that simple.
How long does a closeout take?
We guarantee that you will get your first review within two weeks of submitting a request. However, we typically will get them done in just a few days.
What will my construction project closeout look like?
Your closeout will be branded with your company information along with the project information. We make it very clear what construction project closeout the user will be looking at. It is also in a PDF format that can be searched via the search index tool. Everything is in place to be clicked easily. After clicking an item like submittals, it will open up the item log that is in a .xls format. This item log has links built to each submittal that open up the submittals folder on the machine you are working on.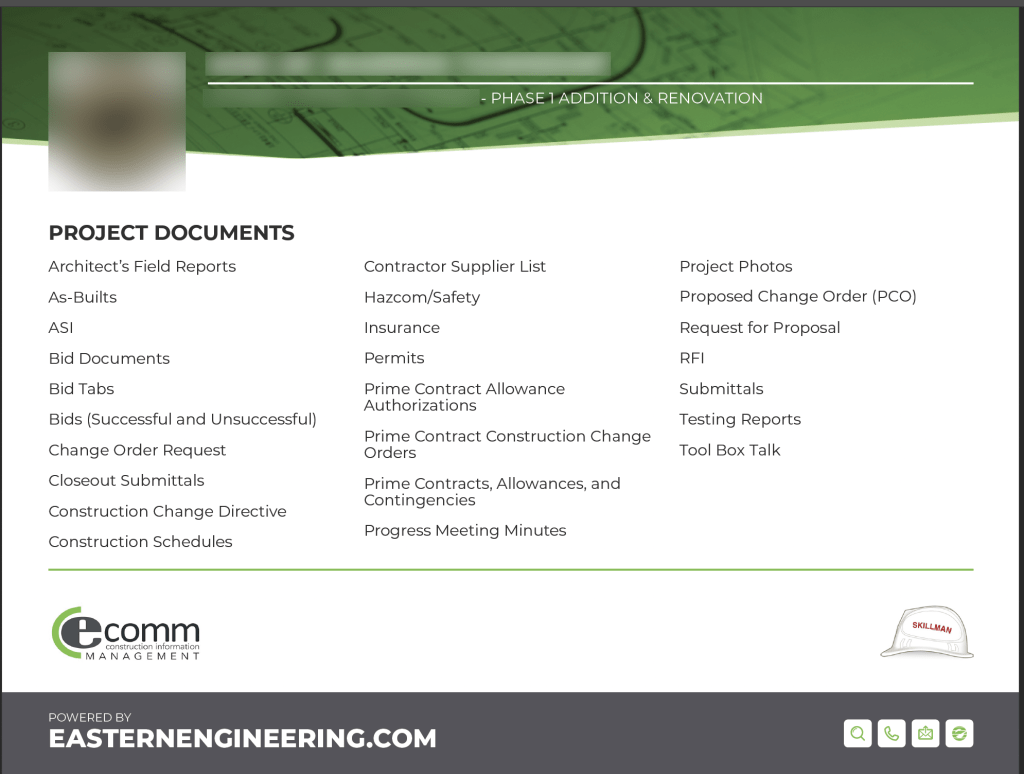 Next Steps
If you would like to view a demo closeout, please go here and set up a demonstration with Eastern Engineering.
If you would like to learn more click here.
If you have questions about your current eComm project, please reach out to Eastern Engineering.